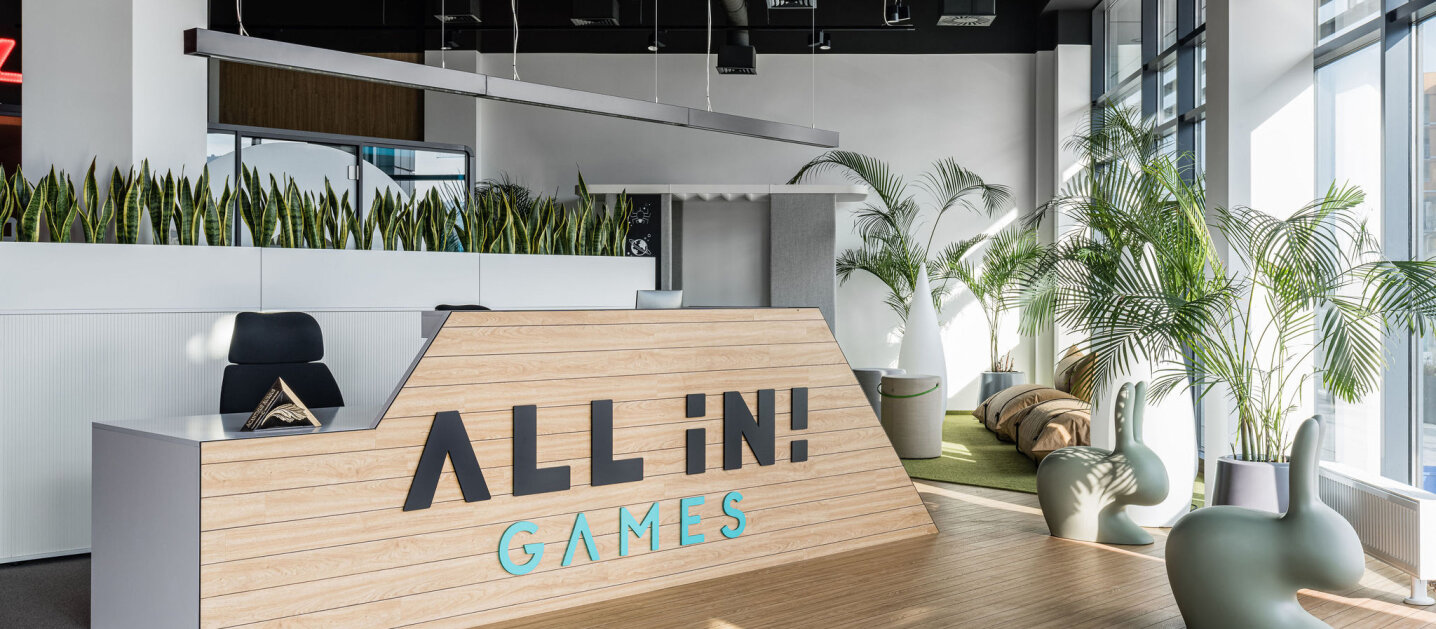 Scroll down
All in! Games
Location: Kraków
Office space: 550 m2
Workstations: 60
Design: Hoof

Architects' out-of-the-box thinking, interiors created for a young, dynamic team and the investor's trust - these things coalesced into the design of All in! Games' new Cracow office. The space was divided into a few main zones, while the shortest way down from the upper storey, instead of stairs, is… a slide.

All in! Games is a young Polish company with an international team of employees. It was founded in 2018. Now it has an estimated value of 600 million PLN. Its fast development and team's growth made it necessary to create a new office space. It was designed and furnished by Hoof Cracow - the official partner of Mikomax Smart Office.


One of the distinguishing features of All in! Games' new offices is the slide that leads from the first floor to the ground floor. The implementation of the slide required construction calculations, project documentation, simulations of slides and calculating the sliding velocity. A start-stop system was used to ensure safety. The whole construction is suspended, without support at the bottom, thus saving space beneath the slide. It was installed by a company that specializes in high-rise work. All in! Games office in Cracow is the third office in Poland to have an indoor slide.


"This is our third project foe All in! Games. Thanks to the trust put in us by the client, as well as their openness to untypical ideas, we were able to bet on unconventional solutions. The new office has 550 square metres with 60 workstations. The whole first floor and a large portion of the ground floor were in the building shell state, which let us approach the project comprehensively. We were keen on creating a functional space that would foster creative work. A space in which everyone will feel well and find a comfortable working environment."
Michał Nowak, Project Manager HOOF Kraków





The slide is not the only unique and creative thing in this project. What also catches attention are colourful, animal-shaped seats by Qeebo. Another thing that will not leave you indifferent is a funny lamp whose shape and form were inspired by King Kong. Hush acoustic booths were used for the comfortable game testing zones. The custom reception desk is finished with the same panels that were used on the floor. The table with swings behind the reception has quickly become the favourite informal meeting place.





The office is clearly divided into a few distinct zones - technical, testing, chillout, work, a large common area and canteen. The division into zones was additionally highlighted by custom made LED lighting. The workspace is equipped with ergonomic task chairs, desk-mounter screens and suspended acoustic panels.








"The All in! Games project is important to us. It let us use our imagination and implement original ideas. This is the direction we want to move towards at HOOF - arranging office space with different styles"
Piotr Kamiński, Managing Director HOOF Kraków






Date of implementation: 2020
Photos: Fotomohito